EMC Expands its Energy Savings Showcase by Adding EV Charging to Headquarters
Kristi Everson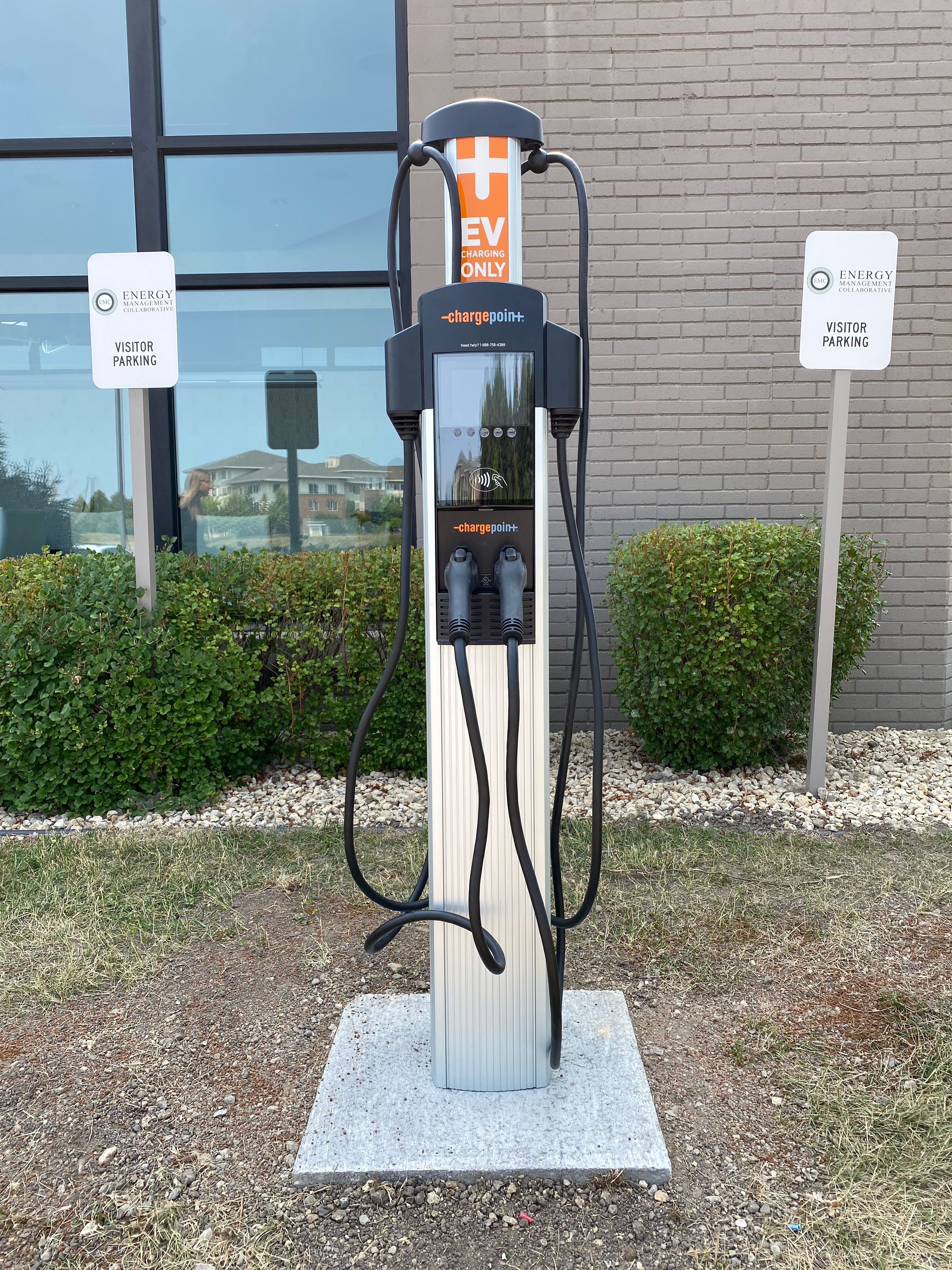 When LED Lighting + Technology and service solutions provider EMC moved to its new headquarters in 2018 it remodeled the building as a "living lab." There employees work in environments with the same vendor-neutral LED lighting and controls technologies it offers customers. Now, the company takes its latest offering to its parking lot where three electric vehicle (EV) charging stations are available for use by employees and visitors.
"Increasing demand and commitment by car manufacturers means now is the time for commercial property owners and employers to add EV charging infrastructure," said EMC CEO and Chairman Jerry Johnson. "Fortunately, they can look to EMC—the same trusted partner they work with to upgrade their LED lighting—for comprehensive, multisite design and implementation."
With increasing availability of tax and utility incentives to offset installation costs, EV charging stations are a way to extend advertising, branding and loyalty programs, and employer goodwill to the parking lot. A U.S. bipartisan infrastructure bill signed into law in November authorizes $7.5 billion for building public EV charging stations.
As it did with the LED lighting and controls implementations inside its headquarters, EMC took a vendor-neutral approach to its EV charging stations. The company installed charging stations from three different manufacturers, including two dual port (for charging two vehicles at a time) units from ChargePoint and EVBox, and a single port offering from US LED.
"We've essentially put ourselves in the customer seat, having to make decisions about installing a dedicated panel for metering and whether to wire it so that additional stations can be added in the future," reflected EMC Vice President of Project Excellence Derek Johnson. "It's also helped us better understand how these installations can be easily coupled with other electrical upgrades to get the most value for project dollars."
Use of the EV charging stations is free for EMC employees and available to the public at competitive rates via the ChargePoint and AmpUp charging networks.
About EMC
EMC provides leading-edge LED Lighting + Technology conversion systems and service solutions to a broad range of multinational retail, commercial, industrial and specialized customers. Since 2003, the company has used its total project management approach, EnergyMAXX®, to successfully implement thousands of lighting upgrade projects, saving clients across industries billions of kilowatt-hours of energy. EMC has since expanded beyond lighting into smart buildings and IoT devices, system integration, custom product development, energy analytics and disinfection technologies.