Energy Management Collaborative CFO Megan Helling Recognized by Minneapolis/St. Paul Business Journal
Kristi Everson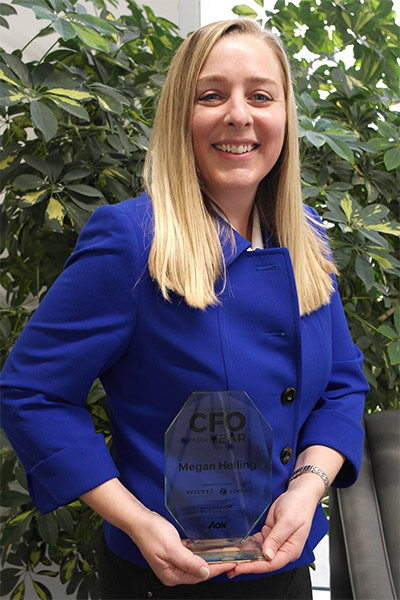 Energy Management Collaborative (EMC) today announced that CFO and Vice President of Finance and Administration Megan Helling was honored for her financial leadership for a medium sized private company by the Minneapolis/St. Paul Business Journal in a special ceremony held Thursday, November 17.
Helling, an entrepreneur who started her own business at age 20, joined EMC seven years ago as a junior accountant. She quickly ascended the ranks of the fledgling company, expanding her accounting and business administration expertise to boost EMC's growth and financial success.
"Having worked with hundreds of financial people and highly competent CFOs over my 35-year career, Megan is at the top of my list," said President and CEO Jerry Johnson. "She is tenacious and committed to success, but in a way that engages and energizes our employees and builds lasting, trusted relationships with EMC customers," said Johnson.
Under Helling's leadership, accounting transactions grew from under 5,000 per year to an expected 70,000 plus in 2016. Revenue is expected to experience a 15-fold increase this year as the company approaches $100 million in revenue. With a three year sales growth of 92 percent, the company was recognized at #3,471 on the 2016 Inc. 5000 List of Fastest Growing Companies for its second consecutive year on the list.
In her current role, Helling oversees the finance, human resources, legal, sourcing and information technology teams for EMC, which saw its workforce surpass 100 employees earlier this summer.
"As CFO of a rapidly growing company, the biggest challenge is building the infrastructure to support growth quickly and effectively," said Helling. She is currently implementing enterprise resourcing planning (ERP) software that will provide the company with greater capabilities to provide real time financial data and recruiting talented employees that are driven to succeed.
In addition to her work at EMC, Megan is an active champion of animal welfare at both the local and national animal advocacy for The Animal Humane Society of the United States.
About EMC

Energy Management Collaborative (EMC) provides leading-edge lighting conversion systems and service solutions in a broad range of retail, commercial, industrial and government facilities in North and South America. Since 2003, the company has used its turnkey project management approach, EnergyMAXX, to successfully implement lighting upgrade projects in all 50 states and Puerto Rico, saving clients across industries over 2.7 billion kilowatt-hours of energy.