EMC's Denise Westenfield named CFO of the Year by Minneapolis/St. Paul Business Journal
Kristi Everson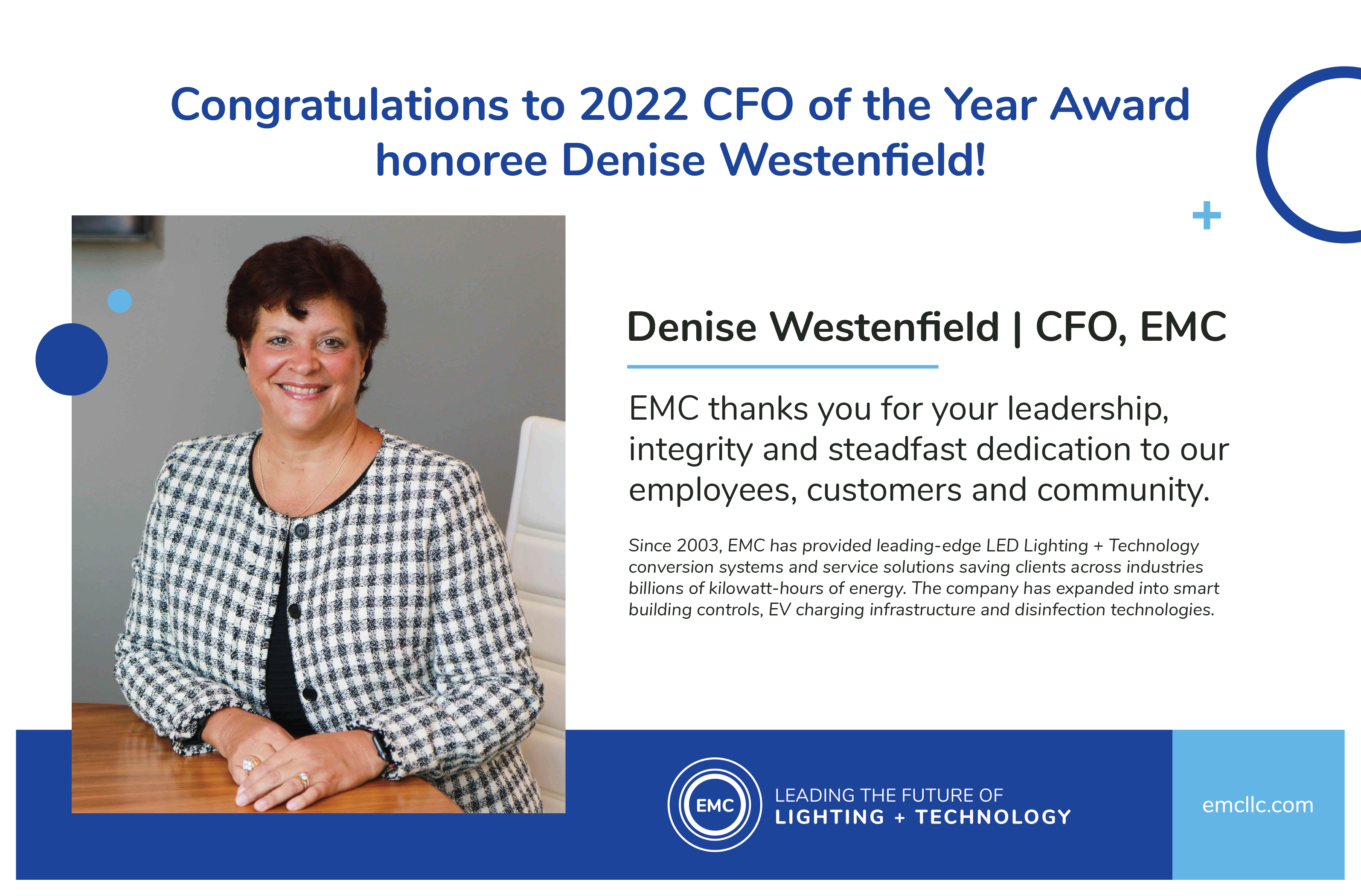 Leading-edge LED Lighting + Technology solutions provider EMC is pleased to announce that the Minneapolis/Saint Paul Business Journal has named CFO Denise Westenfield a 2022 CFO of the Year and will be featured in the publication's November issue.
"This award really highlights the transformational accomplishments Denise and her teams have delivered during her three years at EMC," said EMC CEO and Chairman Jerry Johnson. "As a seasoned financial professional, she expertly led EMC toward expanded growth and profitability during the COVID-19 pandemic and beyond."
Under Westenfield's leadership, the privately held company will experience double digit increases in revenue and profitability over last year, the result of her efforts to modestly increase employee resources and fully leverage a new ERP system. Westenfield oversaw the successful implementation in 2021, allowing EMC to reduce the time it takes to close its books and simplify business reporting processes by more than half.
Since the beginning of her tenure at EMC, Westenfield has demonstrated an ability to lead people and manage processes resulting in successful outcomes—even in areas outside her expertise. She was only eight months on the job as CFO when she unexpectedly assumed responsibility for EMC's HR function just days before the beginning of the COVID-19 pandemic.
While Westenfield had worked closely with HR teams in the past, she never led one. Nonetheless, she and her new HR team quickly got to work, closely monitoring changing health and safety requirements coming from Minnesota's governor and keeping the lines of communication open with EMC's in-office as well as remote staff, some of whose job it is to travel across the country auditing customer sites.
Outside of EMC, for more than two decades Westenfield has provided leadership for organizations that support families dealing with Prader-Willi Syndrome, a genetic disorder caused by a loss of function of specific genes on chromosome 15. This syndrome affects her youngest son. Westenfield is currently serving as treasurer and a board member for both Friends of International Prader-Willi Syndrome Organisation and the Prader-Willi Syndrome Association MN. Previously, she served as treasurer for Prader-Willi Syndrome Association USA from 2016-2019.
Westenfield is also very involved with Special Olympics and has served as Head of Delegation from 2008 to present for the Minnesota-based Western Wings Special Olympics Team. This team relies exclusively on fundraising to support 150 athlete participants from the western Twin Cities metro area.
"It's an honor to be recognized this way and I can't think of a better place—or better people to be with—as EMC strategically sets the stage for future growth," said Westenfield.
About EMC
EMC provides leading-edge LED Lighting + Technology conversion systems and service solutions to a broad range of multinational retail, commercial, industrial and specialized customers. Since 2003, the company has used its total project management approach, EnergyMAXX®, to successfully implement thousands of lighting upgrade projects, saving clients across industries billions of kilowatt-hours of energy. EMC has since expanded beyond lighting into smart buildings, EV charging infrastructure, system integration, custom product development, energy analytics and disinfection technologies.