Making the Leap to Integrated Building Controls
March 3, 2022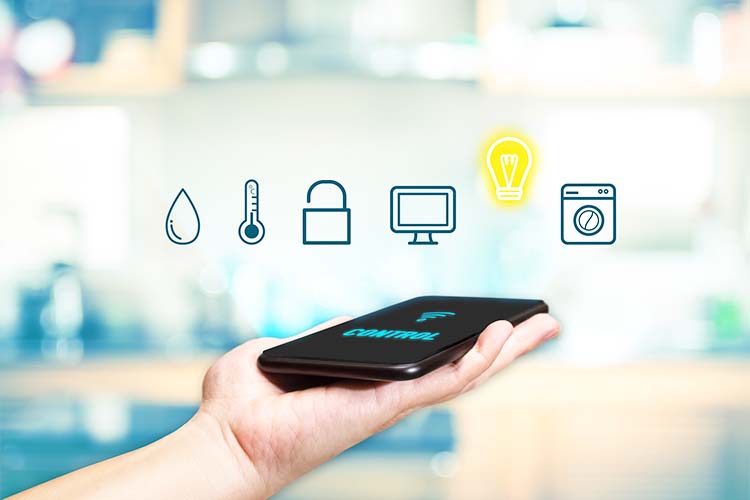 The use of building controls is not new. They've existed in your average commercial building for 40+ years. IoT based integrated controls, however, got their start in residential settings where people hooked up applications like Nest, Alexa and Ring. Companies like Google, Apple and Amazon made their platforms open to other developers, who used common languages to create whole new ecosystems.
Part of the reason for the successful home use of integrated building controls is that it was an easier place to start. With less square footage, operations usually boil down to an HVAC system, thermostat, water heater, appliances and loads of lights. Further simplifying things is that homes are essentially blank slates with no existing controls requiring integration plans.
Taking a cue from what can be done at home, businesses have looked to integrated building controls to achieve a diverse set of goals including sustainability and energy savings in their commercial, manufacturing and retail environments. Their 93 billion square feet of real estate accounts for 18% of energy use in the U.S.—presenting large and unwieldy opportunities not just for delivering energy savings but for creating smarter environments.
Now, with the pandemic changing how people think about where and how they work, there are a new set of goals requiring fluid, changing environments. Integrated building controls are ideal for creating these flexible spaces. As these companies coax people out of their homes and back to work environments, the challenge becomes making buildings healthier, safer, productive and flexible.
New Interoperability Requirements
Think of all the sifting and mining required to gather data points for these facilities, which come in all shapes and sizes. There is little or no interoperability. The traditional metric most facilities managers use is their utility bill, which reflects adjustments based on financial and environmental factors, but provides no measure of health, safety or productivity.
Whereas any type of advancement was a step forward for home controls, these large commercial environments face complicated decisions about removing old systems and ensuring replacements are backward compatible with remaining legacy systems, all while meeting new and emerging goals for interoperability.
Ultimately, reaching the low carbon footprint and financial savings desired requires an integrated controls platform that allows building managers to receive data from their operations and make adjustments based on metrics it provides. Until that feedback loop exists, efficiency, health and comfort can't be optimized.
Determining Your Path
Given the uniqueness of your facilities and company goals, it will require some thought. Here's how to begin:
Understand what you have. If you don't know what you have today, it's hard to understand where you can go tomorrow, unless you are willing to rip everything out and start fresh. Creating an audit of your existing system better informs decision makers of what systems can be integrated (or not), their age and functionality.
One way to gain a better understanding of what's driving energy costs and increased carbon emissions is submetering. There are many companies out there that offer this service and electricians can install submeters at individual electrical panels to give you more specific, granular data than what is found on your utility bill.
EMC sometimes partners with submetering companies as part of the audit process for LED lighting projects. They collect and interpret the data, which our auditors then incorporate into their analysis and recommendations. Submetering is particularly helpful if carbon emission reduction is your goal. The reporting identifies what equipment and/or locations are using the highest amount of kWh, allowing you to make changes with the system.
EMC also conducts submetering projects for Efficiency as a Service, to support ESG (Environmental, Social and Governance) reporting and to help identify other energy efficiency opportunities within our client's facilities.
Determine your goals. The path you take to incorporating building controls is an introspective one, determined by internal factors that are unique to each organization. Key considerations include:
Flexibility. Consider how the way your building spaces are used may change over time. From changing office layouts from time to time to dramatically transforming spaces from one use to another (think going from a department store to a health club), consider how the needs for your building space may change.
Short and long-term conservation/sustainability goals. The kind of energy savings/emission reductions and timeline for achieving them set the stage for the types of controls you put in place today and plan for tomorrow.
Financial goals. One of the important services EMC provides its customers is cost/benefit analysis and return on investment (ROI) estimations for controls projects. While you develop a clear picture of where you want project costs to be, EMC incorporates additional external factors like incentives to best illustrate ROI scenarios as you consider options for your project.
Amount of capital at your disposal. Knowing the funding you have to work with and when you will have it also factors into that cost/benefit analysis, setting the scope for what kind of solution you pick and the timeline for implementing it.
It can be hard to figure out how to start a controls project. Knowing your goals, financial objectives and the capital you have to work with creates a framework for cost benefit analysis and ROI analysis to provide the best decisions.
Decide the approach to architecting your plan. Consider your plan: Is it best to rip out old systems and start fresh? How do you want your building systems to work now and in the future? Will you take an incremental approach, adding new capabilities over time?
This is a critical juncture for determining your approach to vendors. Do you want to work with companies whose offerings are more closed or open in terms of compatibility? There is good and bad with both approaches.
Choosing a closed approach and working with a proprietary solution means you are choosing that provider to create the products that will work in that ecosystem. These products will be designed to work with each other, but technologies from other companies may not be compatible.
Open platforms provide more compatibility and the ability to mix and match to get the most optimal system. However, this requires more hands-on involvement, an understanding of where the field is moving and partnerships with other businesses that are willing to teach, inform and counsel you along the way.
Think about how all the parts of the system you pick work together. Maybe a complete controls solution isn't on your radar now, but you need something to prevent hotel guests from leaving lights and air conditioning on when they are not in their rooms. Will it be compatible with the wireless lighting controls and card reader system used at the hotel? A proprietary system may involve installing a new widget that company makes compatible. An open system may involve some work to sort compatibility issues, but ultimately work best because it was designed to meet your specific wants and needs.
Consider how the system you put in place today should work in the future. New IoT capabilities are emerging at a rapid pace and future-proofing your investment means thinking about what you might want to add tomorrow. These include everything from new functionalities that have not yet been developed to uniting several buildings under one controls system to consistently maximize a complete building portfolio.
While implementing a new controls system requires careful planning for the present and the future, the flexibility it provides makes it a worthwhile but significant undertaking. At EMC we apply our expertise and years of experience helping clients big and small think through all their requirements and help them form a plan that best meets their needs. Let us know how we can help.
Aakash Chandarana is EMC's GM, IoT Solutions. He leads product development and delivery capabilities, helping customers realize the value of their existing investments and understand, navigate and implement smart building and IoT technologies. Previously, Chandarana was Vice President of Commercial and Industrial Customer Solutions at Xcel Energy where he was responsible for developing, implementing and managing products and services, including energy efficiency initiatives for medium to large business customers.