Health Care Institutions: Disinfection Lighting Can Help Address Three Key Challenges
March 27, 2023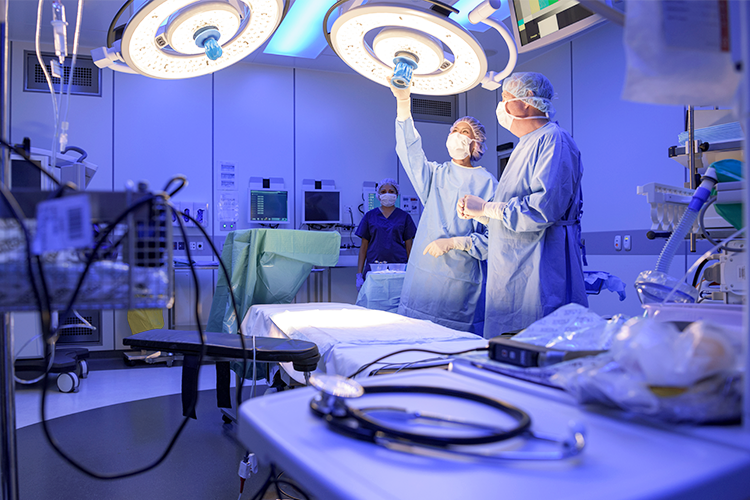 Anyone who reads the news knows that health care systems in the U.S. are going through a tough time. The list of challenges is long. There are three key challenges where disinfection lighting technologies, particularly ultraviolet (UV), can help:
Sustainability and Savings
UV-C disinfection applied to a facility's HVAC (Heating, Ventilation and Air Conditioning) system can drive down energy and maintenance costs with the added benefit of increased air disinfection.
A February 2023 article in Healthcare Facilities Today notes the U.S. health care system contributes 10% of the nation's carbon emissions. As the industry grows to take on the care of an aging population, it will be faced with the challenge of driving down carbon emissions in an environment of skyrocketing operational costs.
Many health care systems are in progress or have already implemented the "easy reach" for energy saving/sustainability of LED lighting linked to building controls. So, what's next?
EMC believes that the next big sustainability opportunity is in a facility's HVAC system...namely UV-C coil cleaning.
HVAC can be 30% to 60% of a commercial building's energy consumption.
Biofilm fouling of an HVAC system's cooling coils can increase HVAC energy consumption by as much as 10% to 30%.
Installing UV-C coil cleaning units:

Eliminates coil fouling so an HVAC system runs at its optimum "as-new" energy efficiency. That's a potential 10% to 30% energy cost saving!

Eliminates the need for manual coil cleaning

Disinfects incoming air flow

Extends HVAC system durability
Health Care Associated Infections (HAIs) and Savings
HAIs are an ongoing focus area for all health care facilities and a major driver of cost. UV-C technologies added to foundational manual cleaning protocols introduce a level of consistency and, with the introduction of Far UV-C, continuous disinfection that cannot be achieved with manual cleaning alone.
There are a number of studies on the extent of HAIs in U.S. health care and their associated costs, but there appears to be no dispute that hundreds of thousands of patients contract HAIs resulting in costs that are in the tens of billions of dollars, annually.
The mechanisms of HAIs are complex, but it is also not in dispute that contaminated air and surfaces can be key drivers.
Disinfection ultraviolet lighting solutions can be a cost effective and immediate way to help mitigate HAIs resulting from airborne and surface contaminates. An exciting, new technology, 222 nm UV-C, with the ability to treat a wide range of contaminants, has recently entered the market.
Independently tested to be both safe and effective in neutralizing viral pathogens including COVID-19, as well as contaminants like mold and fungus, 222 nm UV-C is safe to use in spaces where people are present including heath care settings that range from surgery centers to patient rooms in long-term care facilities. Testing has shown that the 222 nm wavelength does not penetrate the living tissue of the skin or tear layer of the eye.
Labor Shortages
Disinfection ultraviolet (UV-C) lighting also has the potential to help raise the level of disinfection in a facility at a time of staffing shortages. Often filling an open position for an experienced hospital environmental service worker is difficult. In the United States, hospitals are offering individual salaries equivalent to installing a disinfectant lighting solution in up to 30 patient restrooms! Again, 222 nm UV-C offers a very exciting opportunity because of its ability to operate continuously in occupied spaces.
While UV-C lighting isn't meant to replace cleaning staff, it can provide continuous disinfection of air and surfaces. Cleaning procedures don't need to be changed. Cleaning staff don't need to be retrained. The 222 nm UV-C simply runs in the background, providing disinfection improvements between manual cleanings.
Work With an Expert
Sustainability and savings. Safe and healthy environments. Labor resources. But what can be done about them? That's where a different type of expert is needed.
EMC understands the technologies required and we are experienced in installing lighting and controls products to meet sustainability goals and/or disinfection requirements. We also understand budget cycles and financing needs and know how to procure rebates and incentives to deliver the ROI needed to get the job done.
For more information about how EMC can help, contact us today.
Kent Shields is the general manager of EMC's Specialty Lighting business unit with a focus on UV-C disinfection products, grow lights and human-centric lighting. Prior to EMC, Kent was president of L70 Technologies, a leading innovative product development engineering firm. Kent holds a mechanical engineering degree from Purdue University and an MBA from the University of Minnesota.