Long Term Care Facilities: COVID sheds new light on an old problem
August 24, 2022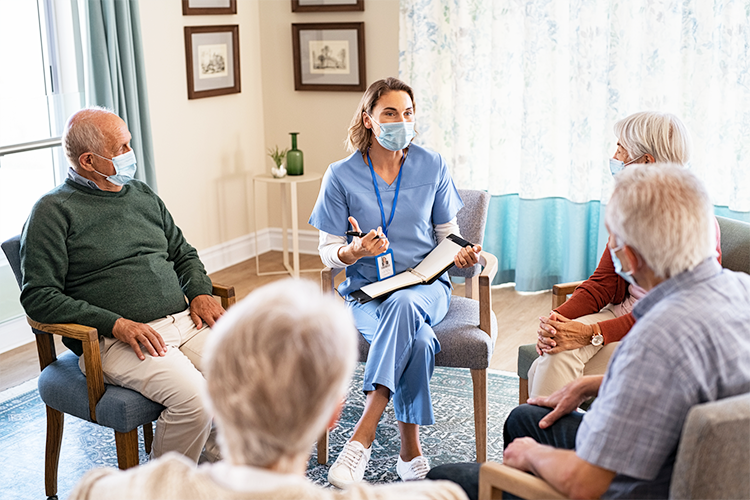 As the combination of increased knowledge, vaccinations, testing and quarantines reduce the impacts of COVID-19, it's easy to think that life is going to return to what it was like before the pandemic.
Think of life before March 2020. Can we really return to our old ways, especially in the long-term care facilities that are home to the elderly and others with fragile health conditions who bore the brunt of the pandemic?
COVID-19 put a spotlight on the issue of air and surface cleanliness (Indoor Environmental Quality - IEQ) that was present well before the virus emerged. Pathogens including Influenza, Severe Acute Respiratory Syndrome (SARS), athlete's foot, staph infections, ringworm and MRSA have long challenged the health and wellness of populations residing in care facilities.
The pandemic has created an environment where these illnesses, once considered facts of life, are no longer tolerated.
New Tools For Old Problems
The virus provided the impetus for the development of new tools to address IEQ. In fact, encouraging building owners to improve IEQ is a key component of the White House's plan to manage BA.5, building on federal funding made available to states for facility ventilation and air filtration upgrades.
Ultraviolet (UV) lighting technologies have been the cornerstone of effective, convenient and consistent approaches to preventing the spread of pathogens like COVID-19. A proven germicidal technology used for decades in upper air chambers and conveyer belt disinfection solutions, UV light disinfects viruses and bacteria in the air as well as on surfaces.
Newly introduced 222 nm wavelength UV-C technologies allow for continuous cleaning of surfaces and air in rooms where people are present. Combined with manual, liquid cleaning cycles, 222 nm UV-C has the potential to transform disinfection capability in the health care space.
It also has significant potential to help offset staffing shortages you are likely experiencing with today's labor market. Cleaning procedures don't need to be changed. Cleaning staff don't need to be retrained. The 222 nm UV-C simply runs in the background, providing disinfection improvements.
Work With An Expert
While many product offerings can be easily integrated with existing lighting infrastructure, working with an expert can help ensure maximized placement and performance.
EMC understands the technologies and we are experienced in installing UV-C lighting products to meet disinfection requirements. We have systems installed and running in our own headquarters.
Our vendor neutral turnkey approach allows us to offer the broadest array of UV lighting technology options.
For more information about how EMC can help, contact us today.
Kent Shields is the general manager of EMC's Specialty Lighting business unit with a focus on UV-C disinfection products, grow lights and human-centric lighting. Prior to EMC, Kent was president of L70 Technologies, a leading innovative product development engineering firm. Kent holds a mechanical engineering degree from Purdue University and an MBA from the University of Minnesota.