Ready for Takeoff: New Insights into Facility Performance
March 27, 2023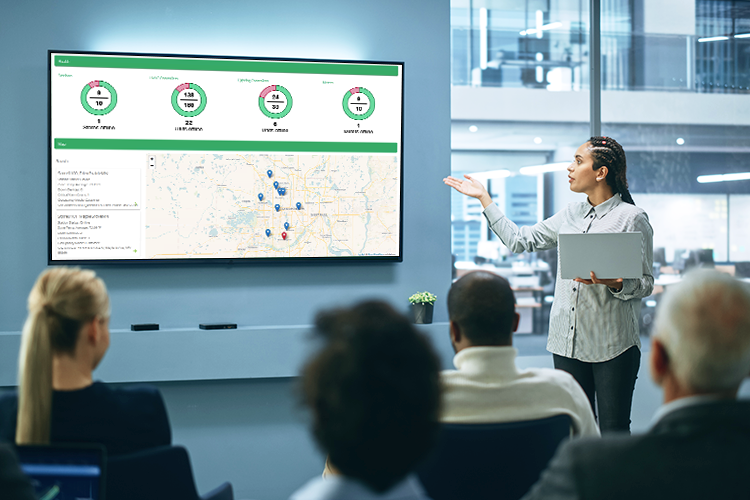 When Orville and Wilbur Wright took off in the Wright Flyer 120 years ago, they had three instruments available to them. Since then, the complexity of aviation technology has boomed, and along with it the complexity of the instrumentation at the pilot's fingertips. The operation of airplanes and buildings may not seem like an obvious comparison, but when it comes to those responsible for keeping them running, some parallels emerge.
While aviation is often associated with the forefront of technological advancement, buildings rarely get the same comparison. And yet, today's building managers have that same need to see into the performance of their facilities portfolio. Until recently, this has been difficult for several reasons, ranging from aging infrastructure and proprietary systems to varied geographic locations and the desire to manage facilities both locally and enterprise wide.
Retailers in particular are up for the task. Many have already implemented energy savings measures like LED lighting to optimize building performance. But they know a substantial amount of building data is out there, ready to be captured and put to use enhancing their facilities performance and furthering their abilities to reduce energy expense.
Facilities at a Glance
Given our unique experience helping retailers implement turnkey lighting + electrical programs over the last 20 years, we realized EMC was uniquely positioned to help develop the right tool to provide these energy and performance insights.
The "instrument panel" we developed, the EMC enBMS Dashboard, provides a clean, concise and customizable enterprise view of a retail facilities portfolio. Building managers can navigate a map showing portfolio locations and customized, live performance data for individual locations, and quickly understand the status and take action if needed.
The enBMS Dashboard allows users to see daily, monthly and annual HVAC, lighting and metering key performance indicators (KPIs), and custom KPIs can easily be added. It also comes pre-loaded with a suite of reports that help building operators find and prioritize common problems in built environments.
An easy-to-use report wizard helps users create and save custom reports and queries. With a few simple mouse clicks, you can update schedules, setpoints and equipment positions for one location or all sites, saving money, time and energy.
Responsive Control
The enBMS Dashboard provides powerful tools to control HVAC and lighting equipment across a retail portfolio. It allows you to see performance and related problems as they arise and immediately react.
Have facilities in areas where forest fires are a problem? Adjust the HVAC dampers remotely for a nearby location.
Need 24-hour lighting during Black Friday? Create a special event that keeps the lights on at all stores on that date.
Tasks that involved more than a dozen facilities employees and hours to program for some retailers can now be implemented from the enBMS Dashboard.
Predictive Actions
Beyond just seeing what's happening now, enBMS becomes even more powerful when it uses the data it generates to anticipate upcoming needs.
After installing the enBMS Dashboard to control lighting and HVAC across its portfolio, one EMC customer realized they could add sensors to monitor trash compactor levels. When a compactor is full, the sensor notifies the trash hauler that it is time to be emptied. This on-demand approach eliminates the need for routine trash pickup, lowering operational expenses and reducing emissions.
Water metering is another opportunity. A common problem retailers face is trucks running over sprinkler lines causing leaks that are often not detected until an unexpectedly hefty bill arrives. Now the enBMS Dashboard can alert building operators in advance to monitor and be aware in time to stop the leak.
The Right Turnkey Partner
Developed with retailers in mind, the enBMS Dashboard is the result of EMC's 20 years of experience working with this type of customer. We've been in your facilities in big metros and small towns across the United States and all its territories. We've listened as you've shared your aspirations and pain points and addressed them in the enBMS Dashboard.
If you are ready to have deeper insights into your retail operations, give us a call. We'd love to talk about how the enBMS Dashboard can meet your operations and energy savings needs.
Aakash Chandarana is the General Manager for Smart Building Controls + IoT Solutions at EMC. In his role as General Manager, Aakash leads his team to help customers realize the value of their existing investments and understand, navigate and implement smart building and IoT technologies. Previously, Chandarana was Vice President of Commercial and Industrial Customer Solutions at Xcel Energy where he was responsible for developing, implementing and managing products and services, including energy efficiency initiatives for medium to large business customers. He holds degrees in business management and biology as well as a law degree from Washington University in St. Louis, Missouri.