Investing in a Safe Return to Work
February 17, 2021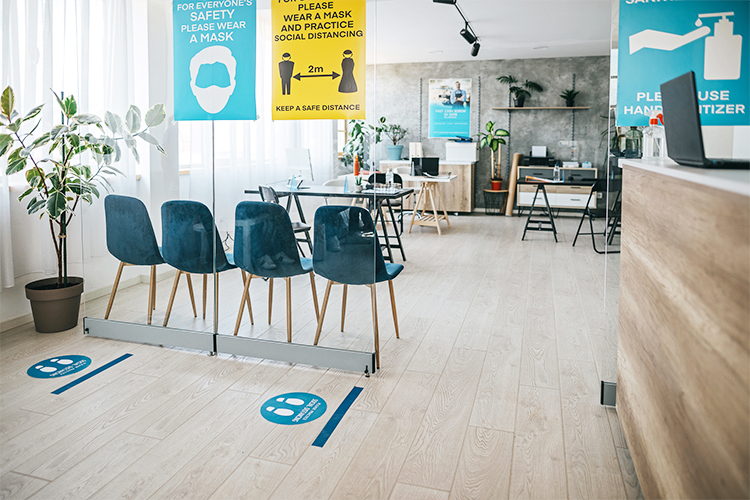 COVID-19 has shifted the value proposition for lighting in built environments—from maximizing energy and bottom-line savings with LEDs to creating safe environments using disinfectant UV-C lighting.
As the pandemic approaches its one-year milestone, vaccine rollouts and the emergence of new virus variants leave organizations wondering how to best return from this universally altered state of work, school and daily life.
Solving a new problem
Prior to COVID-19, EMC primarily helped organizations solve a different problem: energy usage. At the forefront was LED lighting energy savings—something that both saves money and contributes to the reduction of global warming. EMC's expertise with turnkey lighting retrofits of existing buildings—everything from the audit and design processes to implementation and ongoing service—has contributed to over 10 billion kilowatt hours of energy savings since 2003.
Now as companies and public institutions prepare to bring employees back to work and fill sports arenas and schools, they can look to that familiar retrofit process to solve an old problem that COVID-19 thrust into the limelight: safety from human pathogens.
Influenza, Legionnaires' disease, norovirus and the common cold have long impacted society—promising a rise in employee sick days or even the brief closing of a school or work facility. People considered them an unfortunate part of life. But then COVID-19 swept through like a tidal wave, leaving a new high watermark for what's acceptable and the expectation of greater health safety protections going forward.
Building employee confidence in their work environments
This expectation is similar to the safety systems buildings have in place today to prevent and protect people from fire. Even though people may not know the specifics of how building fire suppression systems work, they assume they are installed and will work in an emergency. It's an article of faith that these protections exist. This expectation now extends to preserving human health with clean air and surfaces.
Installing systems that help maintain clean environments is now a crucial part of business continuity. While some office operations can consider keeping workers at home post pandemic, it is not an option for factories, distribution centers, health care facilities, shopping/entertainment venues or places of worship. In these situations, you need people to gather together in facilities and feel confident about being there.
Same retrofit process, new players and objectives
Investing in UV-C disinfection lighting technologies often involves a more diverse group of decision makers compared to LED lighting retrofit projects, which are largely operating expense savings opportunities managed by facilities departments.
Like fire protection, UV-C solutions look like a cost on a company's income statement. The benefit is the prevention of catastrophic business interruption. Just as you can't run your business if your factory burns down, you can't run your business if your factory becomes a COVID hotspot.
Fortunately, the deployment of light-based disinfection technologies, in most cases, follows effectively the same retrofit process as traditional LED lighting. UV-C disinfection technologies have long been used in laboratory, medical and food production environments. They are cost effective, practical solutions that can be conveniently retrofitted in existing HVAC ductwork or as ceiling and wall mounted fixtures just like LED lights. The process from initial audit to installation and ongoing service is essentially identical.
An investment in prevention
The key to a safe, healthy work environment is prevention. Just like a sprinkler system prevents a small fire from spreading, the right disinfection solution can help contain a localized COVID-style outbreak inside a facility. A focus on both surface and air disinfection is necessary for a truly effective preventative approach. Light based disinfection technologies, when combined with other traditional cleaning methods, can provide a truly effective preventative approach.
Businesses are ready to take these preventative measures because COVID-19 provided first-hand knowledge of what happens when complete cessation of business occurs. We've seen the virus postpone or cancel NFL, NHL and NBA games for teams with some of the most expensive employees in the world on their payroll. As consumers we also witnessed what happens when virus-stricken meat processing facilities shut down, leaving grocery shelves empty.
Disinfectant UV-C lighting technologies are an investment in human protection. It's rare that people witness the functioning of protection systems directly, but they do the job when needed. It's also an affordable, practical step towards safely reopening business facilities and giving employees the confidence to be there.
Learn more about EMC's disinfectant UV-C lighting offerings.
Kent Shields is the general manager of EMC's Specialty Lighting business unit with a focus on UV-C disinfection products, grow lights and human-centric lighting. Prior to EMC, Kent was President of L70 Technologies, a leading innovative product development engineering firm. Kent holds a mechanical engineering degree from Purdue University and a MBA from the University of Minnesota.