CLCP Debuts at NALMCO 2016
October 13, 2016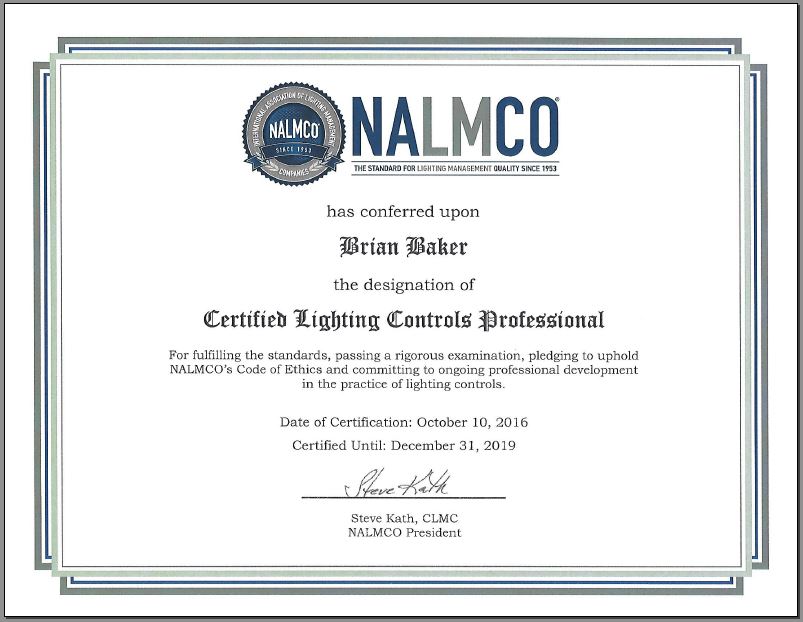 At EMC we are always on the leading edge of energy industry trends. In 2013 our Technology Manager, Tony Johnson, blogged about when to make the jump to LEDs.
Now, three years later, not only are LEDs the cost effective and common sense choice Tony predicted, but they are bringing to life the intricate world of lighting controls.
Demand for lighting controls has surged, causing service providers unfamiliar with this technology to scramble and play catch-up with their education, particularly in the area of networked lighting controls. Not wanting misapplication and poor installation to impact user satisfaction and demand, the industry has been quick to respond. Industry initiatives such as CALCTP, the DesignLights Consortium's CALC program, and the Lighting Controls Association's Education Express online education program have made strides in educating the industry in lighting and controls.
The newest addition to these certification programs, is the interNational Association of Lighting Management Companies (NALMCO) Certified Lighting Controls Professional™ (CLCPTM™) designation. According to NALMCO's description of the designation, those certified will demonstrate a baseline of proficiency in lighting controls technology, application, design, commissioning and related issues such as energy codes.
NALMCO formally announced the new accreditation at their 63rd Annual Fall Convention in Dallas earlier this week.
EMC's very own Brian Baker, who already holds a Certified Lighting Management Consultant (CLMC) accreditation through NALMCO and Certified Lighting Efficiency Professional (CLEP) accreditation through The Association of Energy Engineers (AEE) received his CLCP certification at NALMCO's annual business meeting on Monday, October 10th. He is one of the first industry professionals to be established with the CLCP certification. Brian is also an active NALMCO member who co-chairs the certification committee which serves as a pathway to the board and leads CLMC review sessions for the organization twice a year.
"LED lighting technologies and the controls that manage them take lighting service and maintenance to whole new levels of complexity," said Baker. "Service providers will find the CLCP designation a straightforward pathway to the proficiency the industry demands."
EMC is pleased to have experts like Brian on our team. It's our way of staying ahead of the curve when it comes to lighting and controls technology education and ensuring our customers have the peace of mind that comes from knowing their investment is protected and maximized.