Five Ways to Simplify your LED Lighting Maintenance
June 15, 2022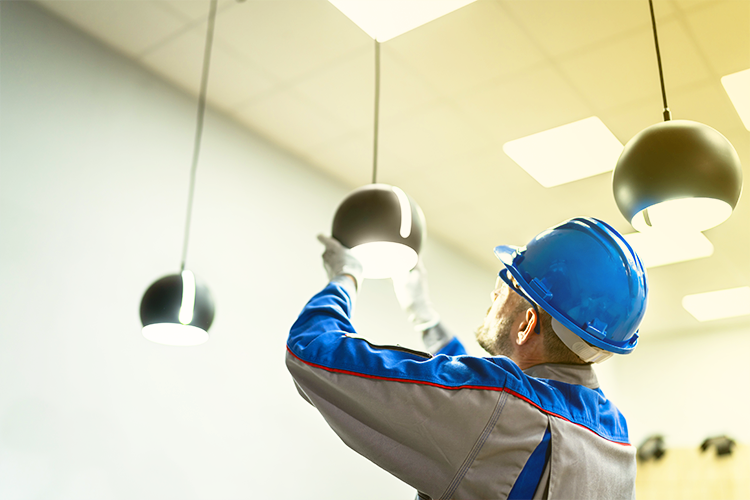 When EMC first started replacing traditional lighting with energy efficient LEDs in 2012, we recognized that more than just the technology was evolving.
Given the prolonged LED lifespans (50,000+ hours) coupled with lengthy warranty terms (5-10 years), we are seeing an evolution from traditional preventative maintenance practices to higher quality, on-demand services. Add in the complexity of compatibility with lengthy lead times for correct replacement product, it becomes clear a change is necessary for the current approach of how you maintain your lighting system.
But how prepared are you?
How well do your maintenance practices align with your portfolio's needs?
Are you positioned to take advantage of new technologies and maximize your maintenance savings?
If you aren't sure how to answer these questions, don't worry! EMC is here to help find new ways to add to your bottom line. Here are five best practices to consider:
Plan for on-demand
Having a preventative maintenance plan has long been the accepted approach. Whether you had someone on staff or hired a third party, you would pay for regularly scheduled visits at every site to replace lamps, ballasts and other standard electrical equipment that had failed.
With LEDs' less than 1% failure rate, along with their 50,000+ hours life expectancy, you may find you don't need to pay for that scheduled service call to verify everything is working. Instead, have a plan to deal with outages quickly and effectively when and if they occur.
Given the nature of LED compatibility with drivers and boards, this requires some forethought. Working with an expert maintenance partner like EMC, you can conduct site-specific reviews of which LED product is found at each location and develop plans to address outages while you wait for your new warranty replacements. Instead of carrying product in a truck or on shelves, you place a site-specific order when a replacement is required.
Make one call
Who answers your call for on-demand lighting and electrical services depends on your approach. If you are a retailer with hundreds or thousands of locations nationwide, you may utilize an automated system like ServiceChannel to issue work tickets to several providers. You may find yourself alerting someone on staff or working down a list of local providers in the hopes one will return your call.
For EMC, today's environment is a perfect match for the service skillset we've spent more than a decade refining to be that single point of contact. We've honed our ability to integrate with customers' existing service processes, providing nationwide support for lighting outages and electrical issues affecting registers, outlets, power banks and more.
EMC leverages its nationwide labor partner network and established relationships with lighting and controls manufacturers to get service experts there quickly with the right supplies. EMC customers expect the job to be completed on the first trip, rather than multiple. This means less downtime and more maintenance cost savings.
Have a warranty management plan
In the past, when a lighting fixture failed, it may have been more cost effective to just replace the components, as they were relatively cheap. Today, when an expensive LED fixture fails prematurely, you tend to care more about the warranty.
What hasn't changed is the cumbersome, complex warranty process. Also, most lighting and controls manufacturers' extended material warranties exclude labor, making it critical to have a trusted partner who ensures you receive the full benefit of your product warranties.
Warranty management was a frequent customer request that shaped EMC's Service organization over the years. We have expert staff who routinely navigate warranty claims and offer an Extended Labor Warranty Program that combines their process expertise with the skilled labor our customers need to realize the value of their warranties.
Get an audit
Knowing the details of your current lighting/electrical installation can drive value over the lifetime of that installation. When service professionals receive an on-demand call for an unfamiliar site, the complexity of today's lighting and electrical installations will likely mean there will be another visit—and that comes with added cost.
Instead of paying for routine service or multiple returns, consider investing in an audit. Having this accurate survey of your sites takes away the guesswork and helps you optimize savings and confirm priorities.
At EMC, auditing is just one phase of our EnergyMAXX process for maximizing your long-term investment and reducing the total cost of ownership of your LED lighting.
Be ready to reLED
While 50,000 hours seems like a long life, LEDs don't last forever. if you've already gone to LED—either as a retrofit or as part of new construction—significant opportunities for enhanced performance and savings still exist. This holds true especially for LED tubes or high bay lighting installed prior to 2018.
Working with a service provider who knows your installation can help determine if you are ready for an LED upgrade and assist you in building the case for reinvesting in new, more energy efficient and controls-compatible technologies.
EMC's experience with lighting upgrades and service makes us an ideal partner for managing all phases of your installation's lifecycle. Read this blog post to learn more about reLED: What's reLED and Six Reasons to Start Thinking About It.
While these are five best practices, they are not always easy to think through when evaluating your own process. At EMC, we keep a fresh perspective, applying what we learn handling thousands of work orders for our multisite retail, commercial, industrial and health care customers each year. Contact us today to see if we can provide any assistance in meeting your lighting + electrical service needs.
Derek Johnson is EMC VP, Project Excellence. With a solid background in the lighting industry, Derek brings extensive customer experience, new business development and sales experience to EMC and holds a bachelor's degree from the University of Minnesota, Carlson School of Management, in bio-based management and marketing.