New EMC HQ – A Lighting + Controls + IoT Showcase
February 21, 2018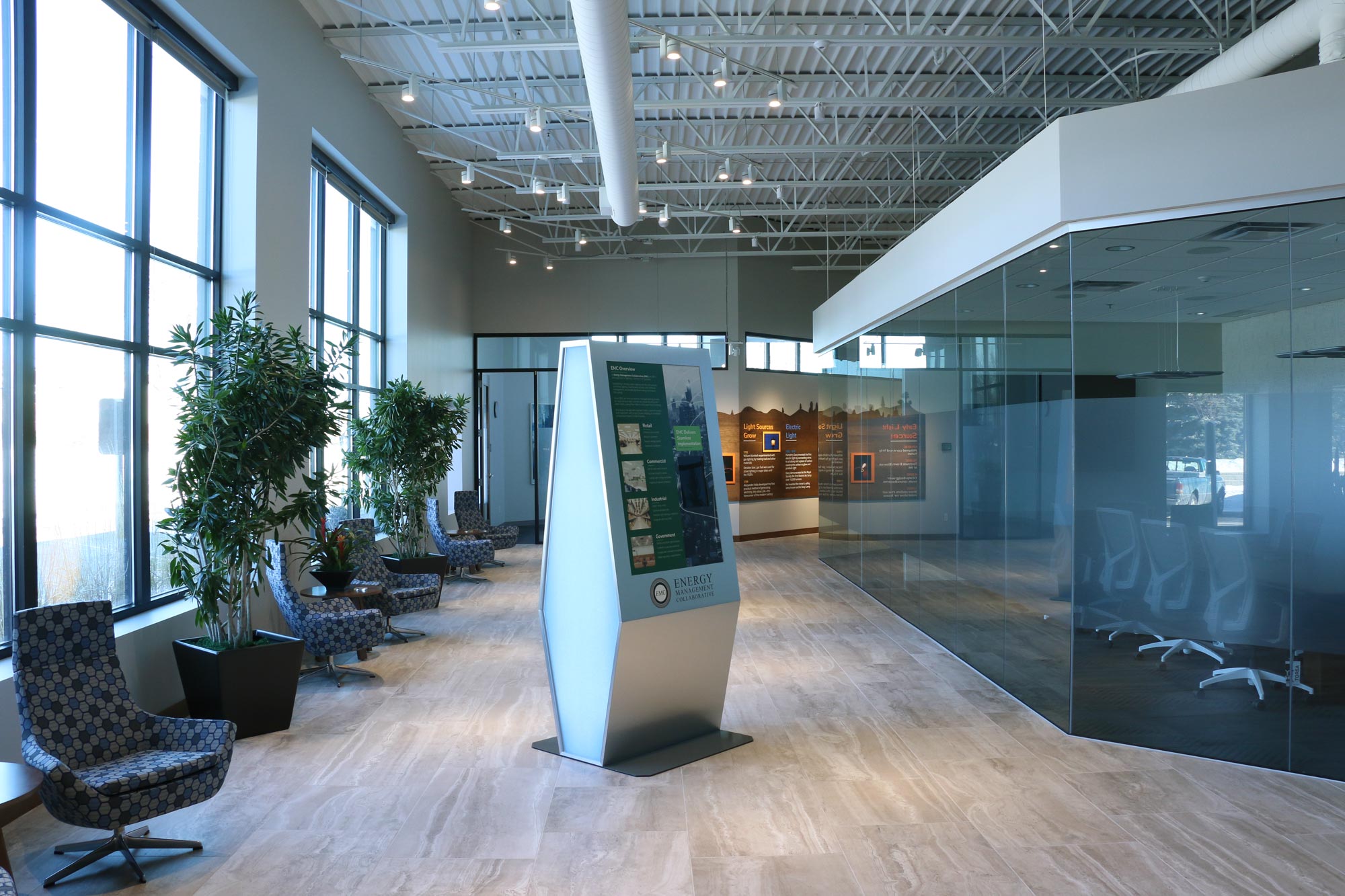 Just this week, our EMC headquarters relocated from the 17,000 square foot building that had been our office since 2012. We had many successful years there and found ourselves bursting at the seams due to rapid growth. Today, we are in a beautiful new office that not only serves as our headquarters, but is also a showcase for the LED lighting, controls and IoT technologies that are core to our business.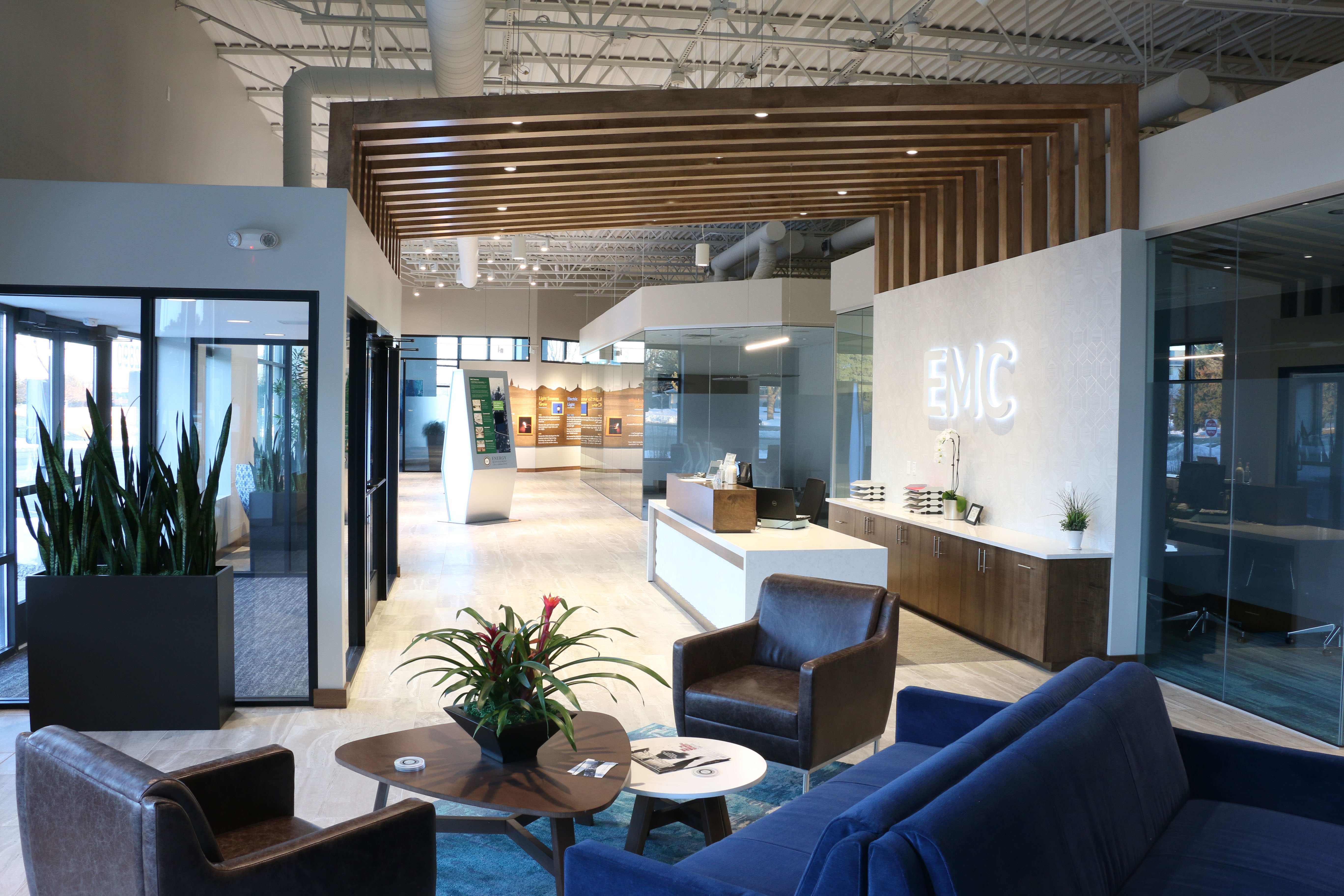 EMC is now headquartered at an existing 42,000 square foot facility located at 2890 Vicksburg Lane in Plymouth, MN. The office space was designed to achieve optimal energy efficiencies with the flexibility for future technology upgrades.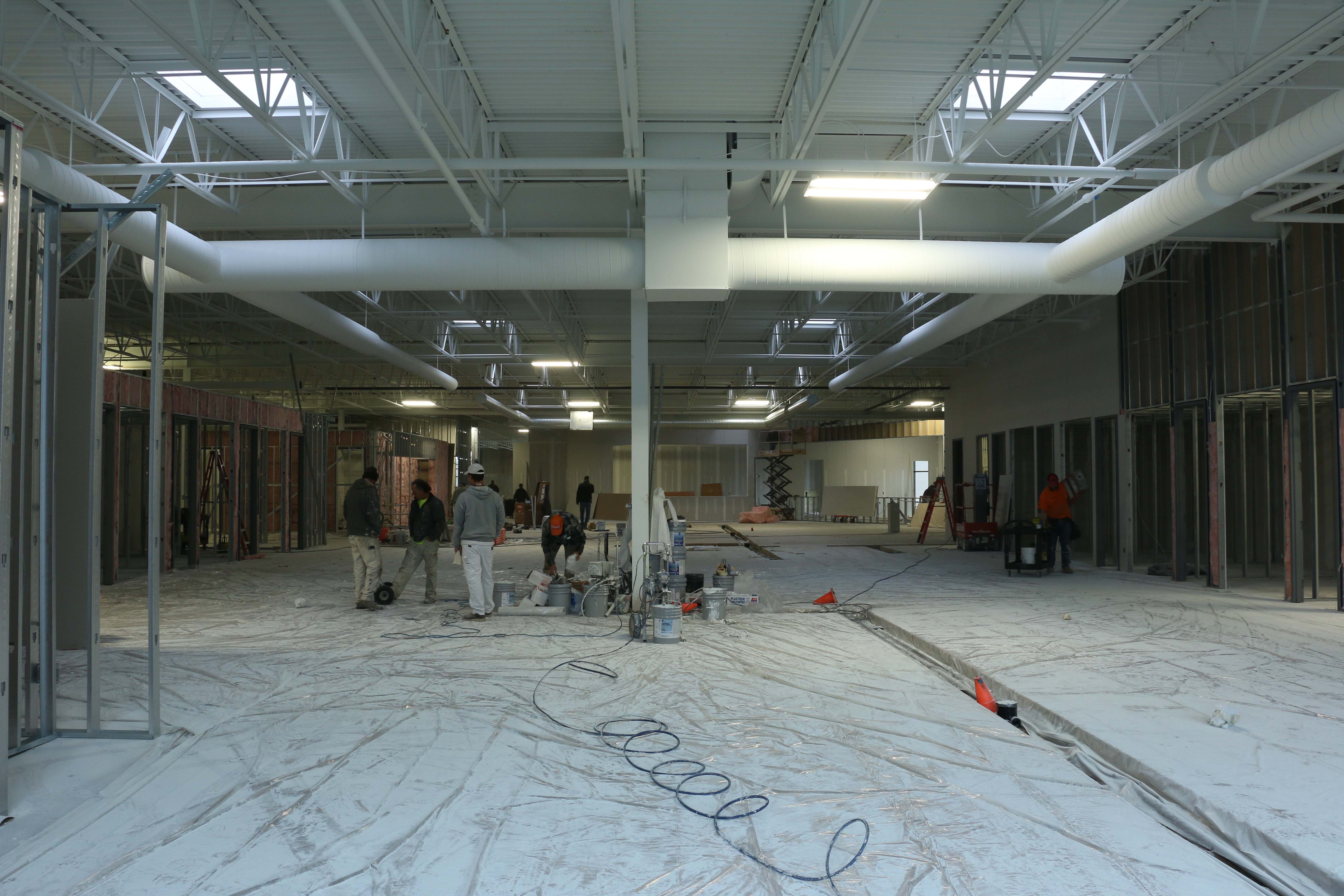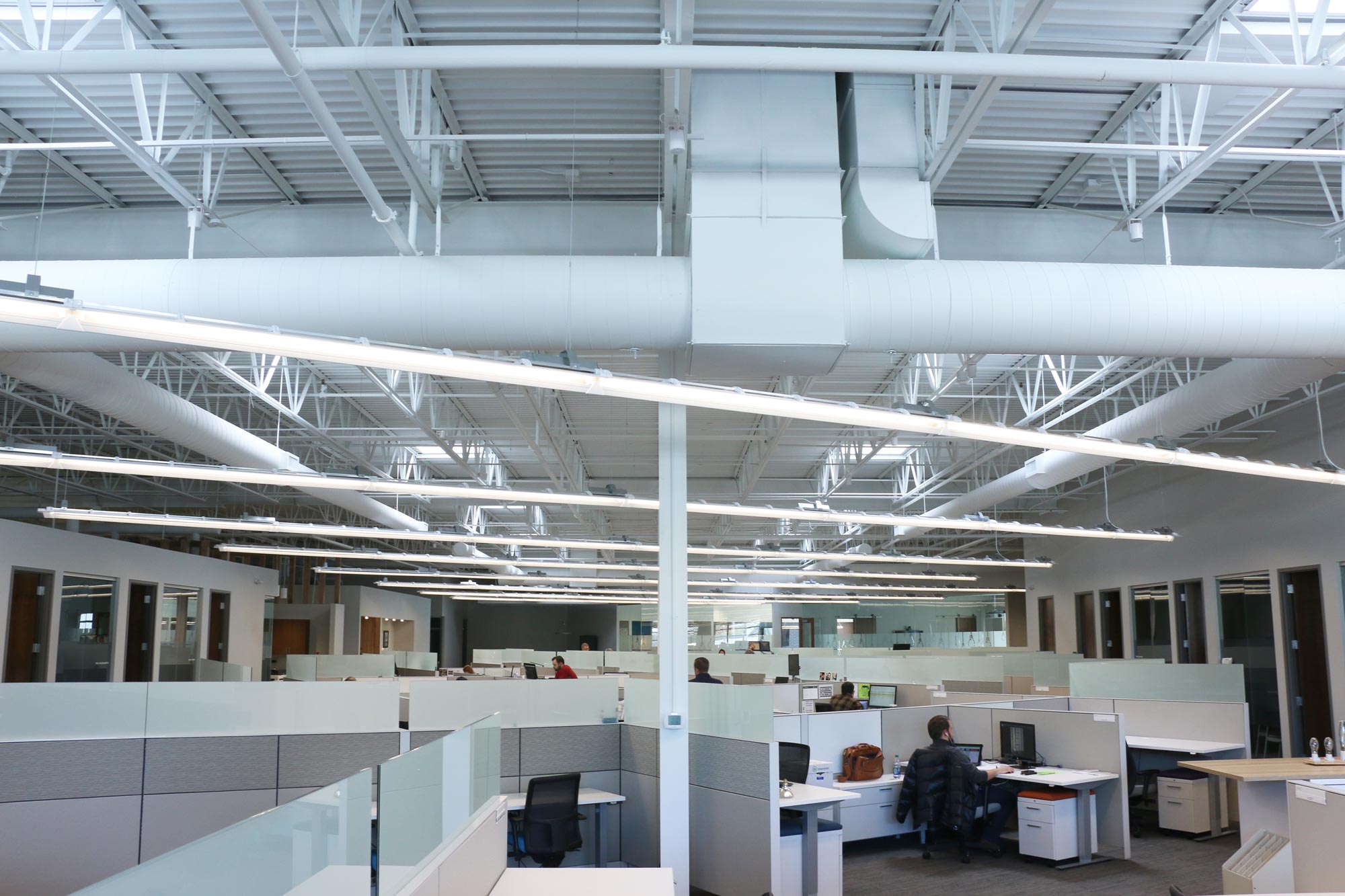 The office area is an open concept with collaborative meeting spaces, telephone rooms and private offices sprinkled throughout. Sit-to-stand ergonomic workstations act as an innovative flexible furnishing, allowing for efficient departmental expansion as the company quickly grows.
Additional unique design elements include wood trellis style ceiling elements, a 1,500 SF café style breakroom and storefront style glass for executive offices and boardrooms.
Open ceilings maximize the use of skylights, some added during the remodeling process, and ensure that lamp configurations and wiring are easily seen by visitors who may be considering the technology for their own facilities.
The new headquarters combines daylight harvesting, scheduling, personal control and HVAC integration to create an attractive, energy efficient work environment. We tuned the light levels so that the lighting system provides just enough light for employees to conduct their daily tasks. For instance, someone working at their desk typically requires a higher light level than someone walking down a hallway.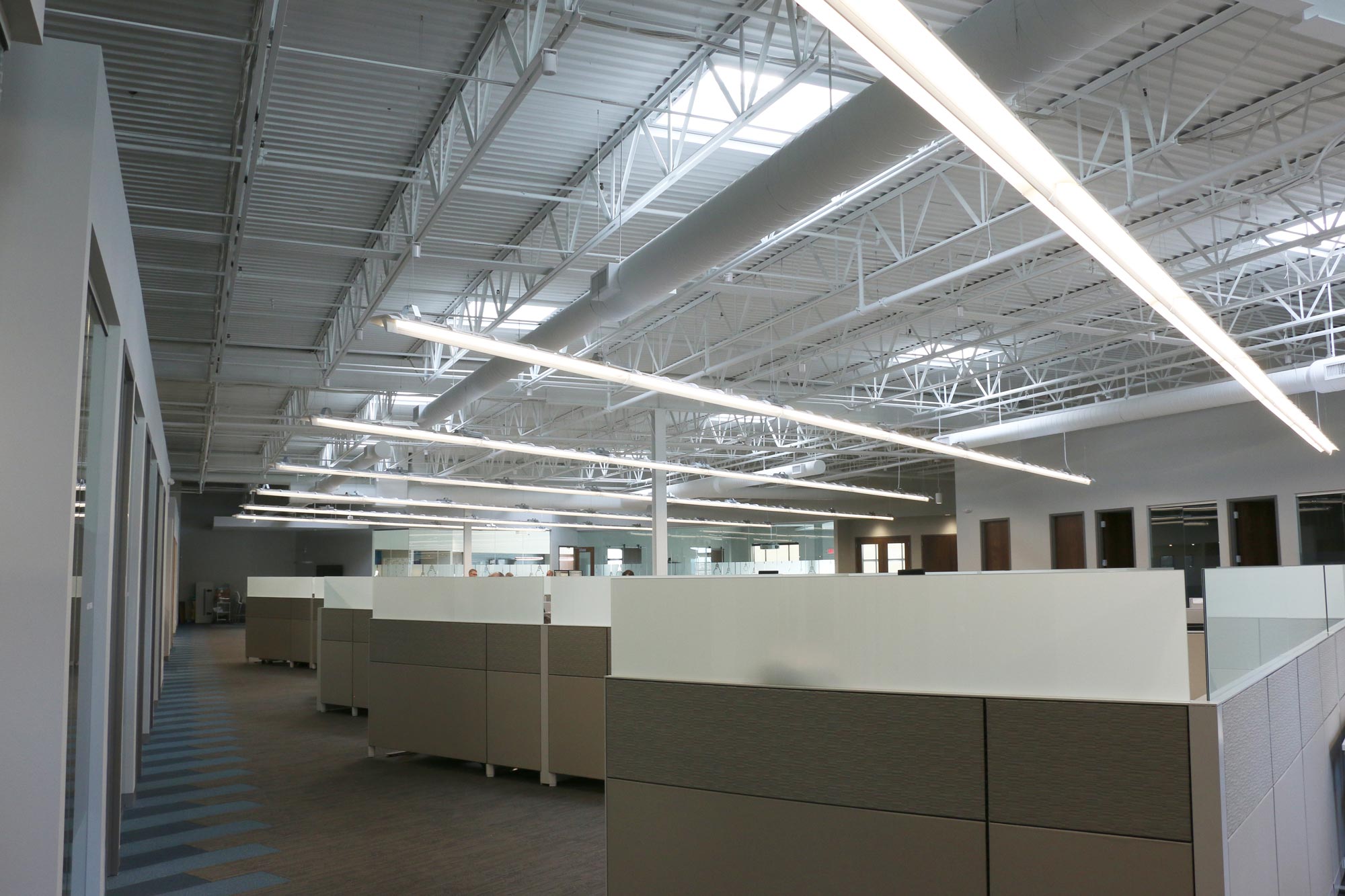 Best-in-class Approach
We applied the same best-in-class approach we use with our clients to our headquarters, installing a variety of different branded systems and products. This includes five different controls systems, each operating light fixtures from 24 different manufacturers throughout the facility.
The controls systems were installed two ways:
Intelligence on board, which refers to wireless controls, provide a relay mechanism and intelligence for each fixture without any wiring between fixtures
Standard relay with 0-10V wires connect all other fixtures
The controls systems tie back to the HVAC system using a BACnet/IP communication protocol where heating and cooling can adjust based on occupancy and/or scheduling.
Dimming + Daylight Harvesting
EMC anticipates shaving 20 percent or more off facility energy costs by making everything dimmable. Lighting systems automatically adjust to ambient lighting harvested from windows and skylights, and scheduling and occupancy sensor systems ensure lighting does not stay on when not in use. Visitors to EMC can see how all different types of fixtures dim, so they can make decisions about what they prefer for their own facilities.
Highlights include:
Open Spaces and Offices
The walkways, vending areas, private offices and lobby area, use the Acuity nLight® system, a networked digital lighting control system that uses simple plug and play tactics with Cat5 cable between devices.
A section of the open office area uses Lutron Vive™, a scalable wireless lighting control system with GE fixtures, while another area includes Lumawatt Pro, a new wireless product from Eaton that uses data from their fixtures to collect activity data and requires no fixture-to-fixture wiring.
Another open office area utilizes high bay lighting fixtures with both a driver and a BLE (Bluetooth Low Energy) radio which is used as an internal positioning system (IPS). Some of our retail partners currently use this technology for marketing and to track assets in their stores.
Each lighting control system uses their own software applications that turn granular data collected from their performance into information through energy dashboards and specialized apps.
Executive offices have tunable white LED fixtures which enable the adjustment of both the intensity and the color temperature. Not only can you choose how bright or dim you'd like your light, but you also can manually adjust the many ranges of colors between a warm glow and cooler tones.
Data Insight
Throughout the space, the SiteView Energy™ solution provides monitoring of building energy consumption and an informative dashboard demonstrating energy savings. This solution offers instant insight into which offices and conference rooms currently have occupants.
Conference Rooms
Several of our conference rooms use Acuity's Fresco™ system to manage the dynamic lighting source that include DMX/RDM and 0-10V dimming from a touchscreen interface. Each of these rooms have several zones of traditional, color changing and tunable white fixtures.
The design is not meant to be static and as new technologies become available we'll update various areas of the building to showcase them and tell you what it is like to have them in our day-to-day work space.
At EMC, we look forward to the many successful years ahead in our new office headquarters. Please stop by and visit any time!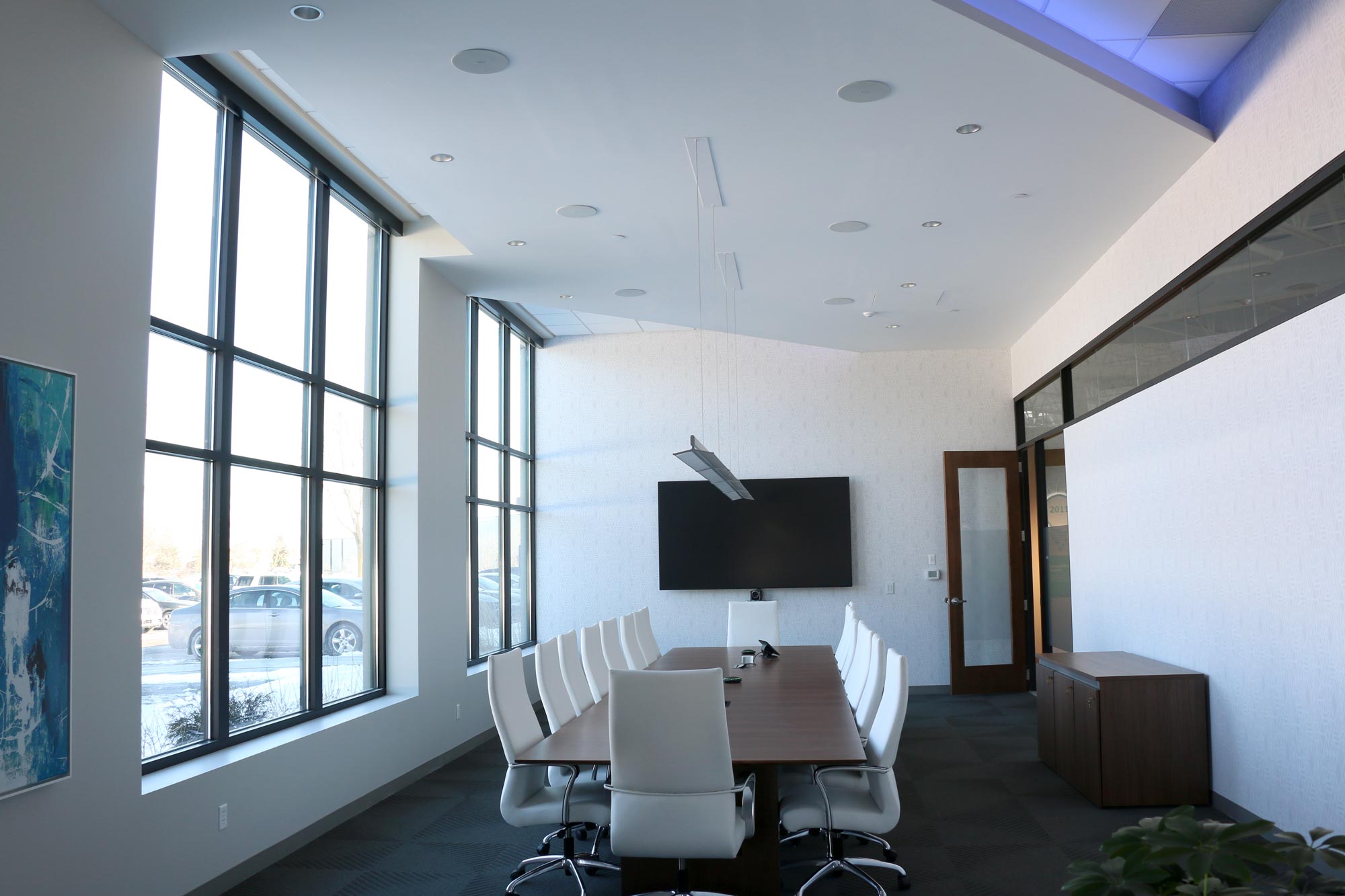 Ben Wright is manager of design for EMC. In this role he ensures that lighting projects are analyzed not just as energy reduction opportunities, but as opportunities to improve the spaces we live and work. He has a Bachelor of Arts in Environmental Design from Montana State University – School of Architecture.