Finding a Turnkey Path to EV Charging Capability
August 24, 2022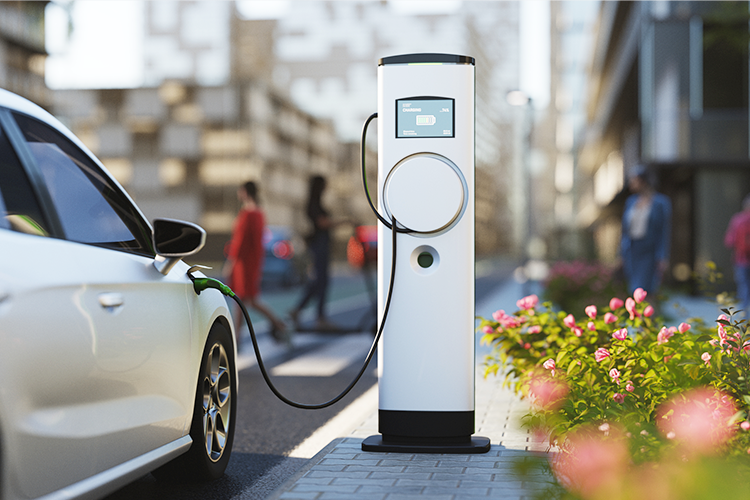 It's getting hard to ignore the peripheral revenue potential surrounding the electric vehicle (EV) industry. A third of all U.S. vehicles will be electric by 2025 and major automakers expect the majority of their sales from EVs by the end of the decade. That massive EV growth will spur tremendous demand for EV charging infrastructure. Savvy business leaders—from retail and hospitality to the commercial, industrial and health care sectors—are eyeing the opportunity to create a significant new revenue stream and enhance customer, guest and employee experiences by building out onsite EV charging capabilities.
It's easy to see the revenue opportunity, but it's not a small investment. Moreover, most are hesitant to take on the challenges of selecting, installing and supporting the right technology.
That's where EMC can help. EMC provides a turnkey experience for bringing EV charging capabilities to your business. With our deep expertise and proven best practices, we handle the complexities around what and how, building a tailored EV charging solution that fits specific business needs and goals—and making sure it translates into a positive, sustainable source of incremental revenue for your business.
Maximize Your Investment With the Right Incentives
Businesses can take advantage of incentives from utility providers to offset and minimize project costs of adding EV charging—much like LED lighting improvements and other electrical upgrades. Understanding incentive programs at the State and Federal level can help maximize the value of projects by reducing the overall spend—achieving as much as a 100% offset of project costs.
At EMC, we have a dedicated team of award-winning incentives experts that have saved many millions of dollars for our customers and help them prioritize a portfolio that is based on incentives, tax credits and registered EV chargers. Through their strong utility partnerships and experience, the EMC incentives team navigate the nuances of net incentive programs and take advantage of efficiencies from other EMC projects in the area to develop custom (not prescriptive) strategies—while managing all the complex paperwork along the way to eliminate potential accounting headaches.
Plan the Work. Work the Plan.
Making sure you stand out while providing the right experience to retain your desired clientele involves selecting charging stations that support your vision.
How will your EV customers find you?
Do you need to offer fast charging capability to stay competitive?
Will a video monitor help you cross promote other products or services?
How do you want EV stations to be managed and controlled?
Will this be a free amenity or will it be priced? Do you want ability to change?
Is it imperative to connect with an established reward program?
To ensure EV charging stations provide a positive experience for your customers and your business, selecting equipment solutions and a payment model that provides the best long-term fit will help answer these questions and address other important considerations, such as warranty and post-install support.
There is no such thing as a one-size-fits-all EV charging solution. That's why EMC developed our proven EnergyMAXX® process— a programmatic approach to understanding your needs to ensure EV installation investments are targeted efficiently and effectively.
The first and most critical part of the EMC Process is a detailed audit of every property. An EMC audit goes well beyond showing charging station locations on a Google map, adding important considerations that will impact the cost and logistics of the implementation:
Should the EV charging stations be close to existing electrical rooms or closer to the street to provide maximum visibility and generate the desired traffic?
Will an existing electrical panel need to be replaced? If so, why and what is the associated cost?
Where will new conduit need to be installed? Will new concrete pads be required after the trenching work is complete?
These are just a few of the many considerations involved with understanding the scope of work and coordinating the related logistics to minimize intrusion into existing operations. The detailed EMC plan also outlines the rationale behind important decisions so you can confirm alignment with your business priorities and have the peace of mind to stay focused on your core business.
The Value of Proven Experience
When it comes to selecting the right partnership to guide your EV charging purchases and installation process, you want a company you can trust to deliver results today—and support you for the long haul.
Do they have a proven track record that demonstrates success?
Can they point to relevant data from past successful projects of a similar size and scope to help support their recommendations?
Have they been around longer than their warranty?
EMC has been providing Lighting + Technology systems and service solutions for a broad range of multinational retail, commercial, health care, industrial, hospitality and other specialized businesses since 2003. Through our detailed approach that focuses on your priorities and our active Labor Partner Network with over 400 partners across the U.S, EMC has the resources, relevant experience and scalability to provide a worry-free, turnkey EV charging installation experience—from concept to completion.
A Vendor-neutral Approach to Select the Right EV Equipment
Like technology solution providers in other industries, EV hardware and software companies have formed partnerships that provides a rising tide of revenue for both businesses. Different EV charging manufacturers also offer different payment plan options—from fully owning and operating to charging as-a-service—that can be just as critical in shaping the long-term success of your EV charging solution. These relationships are positioned as helping you streamline the selection process. But they can also significantly limit your options—and lead partners to recommend technologies that bring them the highest margins.
As an objective partner solely focused on your business priorities, EMC provides a vendor-neutral approach that isn't beholden to hardware/software partnerships. We consider every solution and payment model in totality in order to help our customers get the best value. We believe that this approach is the best way to ensure competitiveness on price, performance and support to help make the equipment and payment model decision align with your unique business situation.
The Opportunity is Huge—But You Can't Afford to Get It Wrong
The EV charging opportunity is largely about being in the right place at the right time (ideally, ahead of your peers). But you can't overlook the importance of the charging experience. Providing a just-in-time charging station puts you in a great position to create new brand impressions and deepen existing brand loyalty. But if that charging experience falls short of (already rising) expectations, that negative sentiment will extend to your business and brand.
Moreover, with the power of social media, the potential for this scenario to escalate and negatively impact your new business model is very real. And once this fuse is lit, it's very difficult to change.
Whether your main goal is to quickly gain revenue from a higher density of EVs or to build a robust offering that attracts a more discerning clientele, working with an experienced, vendor-neutral EV partner is the best way to avoid this scenario. EMC has the proven process, experience and resources to support large-scale EV charging design and installations to make sure you have the right solution for your business—now and in the future. Let's talk.
Derek Johnson is EMC VP, Project Excellence. With a solid background in the lighting industry, Derek brings extensive customer experience, new business development and sales experience to EMC and holds a bachelor's degree from the University of Minnesota, Carlson School of Management, in bio-based management and marketing.