Energy Management Collaborative Sheds Light on Full Cycle
Kristi Everson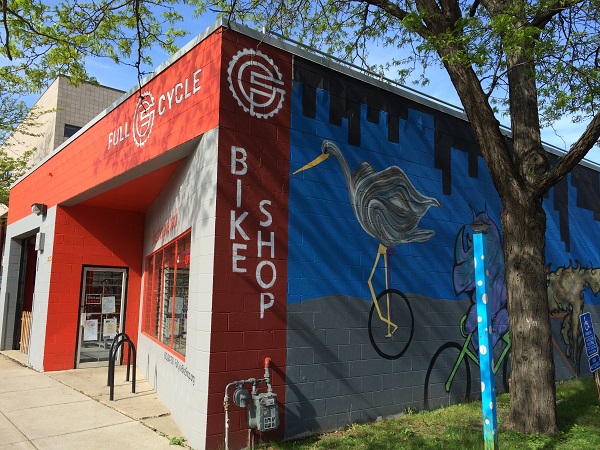 Plymouth, MN (May 19, 2015) – A combination of corporate housekeeping and neighborly conversation led Energy Management Collaborative (EMC) to donate excess lighting inventory and coordinate a retrofit for Full Cycle, a non-profit bike shop in south Minneapolis that offers paid internships to homeless youth. In addition to now having proper light levels needed to repair bikes, the bike shop is more energy efficient and code compliant.
"We needed to do something about the bike shop's expensive, inadequate lighting, "said Full Cycle Director Matt Tennant. "It was a big enough issue to make it a top priority for our 2014 program review and fundraising efforts."
Alerted by a neighbor who was involved in Full Cycle's Foundation, EMC's Director of Marketing and Incentives John Loheit immediately thought of extra inventory EMC needed to eliminate to make room for its expanding Plymouth based business. Loheit, along with EMC Internal Lighting Auditor Jason Fjestad and Project Manager Jason O'Brien, conducted a lighting audit for the shop to assess what was needed.
For installation EMC looked to its business allies for assistance. Chris Boe of Boe Electric performed the installation and Jon Fritsche of ESI provided additional reflectors and lighting components needed for the replacement fixtures.
"This was truly a win-win situation," said Loheit. "What was taking up office space for us helped transform the work environment at Full Cycle," he said.
As warm weather arrives in Minnesota, Full Cycle is well positioned for a busy bicycle season. In addition selling used bicycles and parts and providing professional repair services, Full Cycle gives away more than 150 bicycles ever year through its Free Bike Program to young people who can't afford one.
Energy Management Collaborative (@EMC_2003) provides state-of-the-art lighting conversion systems and service solutions in a broad range of industrial, commercial and retail facilities in North and South America. Since 2003, the company's turnkey project management approach, EnergyMAXXSM, has helped its customers assess and implement each project phase, bringing an immediate and positive impact to their bottom line.
About Full Cycle
Full Cycle is a nonprofit bicycle shop in south Minneapolis that offers a six-month, paid internship program for homeless youth. They employ, train and support homeless youth, teaching them bike repair and hands-on business skills including resume writing, interviewing skills, sales, customer service and overall professionalism. The Bike Shop also sells used bicycles and parts and provides professional repair services. www.fullcyclebikeshop.org