Energy Management Collaborative Named Tennessee Valley Authority Top Performing Preferred Partner
Kristi Everson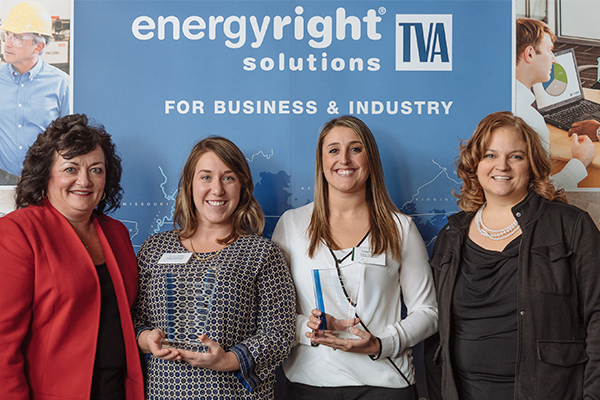 Energy Management Collaborative (EMC) today announced that it was recognized for Excellence in Performance in Lighting as well as Excellence in Performance in the Southeast Tennessee District by the Tennessee Valley Authority (TVA) Preferred Partner Network (PPN) at an award luncheon held November 18 in Nashville, TN.
Since its start in 2003 EMC has delivered more than 22 million kilowatt hours (kWh) to TVA customers in a variety of retail settings. This savings is also factored into the more than 2.7 billion kWh of energy savings achieved by EMC customers nationwide, a number that is expected to surpass the three billion mark in 2017.
"Having skilled partners ready to help our business customers make smart energy choices is crucial to TVA's success," said Jeromy Cotten, TVA Senior Program Manager. "EMC's lighting technology expertise and their knowledge of TVA and our programs makes them an ideal partner to work with."
A corporate agency of the United States, the TVA provides electricity for business customers and local power distributors serving nine million people in parts of seven southeastern states. Its PPN program has been a critical success with member partners delivering 98 percent of the TVA's energy savings in 2016.
"The strong relationships we build with our utility partners are critical to EMC's success in delivering meaningful incentives to TVA customers," said Katie Quam, EMC manager of customer incentives. We are pleased to be a part of the Preferred Partner Network and help customers achieve this level of energy savings and experience an immediate and positive effect on their bottom lines."
About EMC

Energy Management Collaborative (EMC) provides leading-edge lighting conversion systems and service solutions in a broad range of retail, commercial, industrial and government facilities in North and South America. Since 2003, the company has used its turnkey project management approach, EnergyMAXX, to successfully implement lighting upgrade projects in all 50 states and Puerto Rico, saving clients across industries over 2.7 billion kilowatt-hours of energy.