Energy Management Collaborative Lights the 2016 St. Paul Winter Carnival Ice Palace
Kristi Everson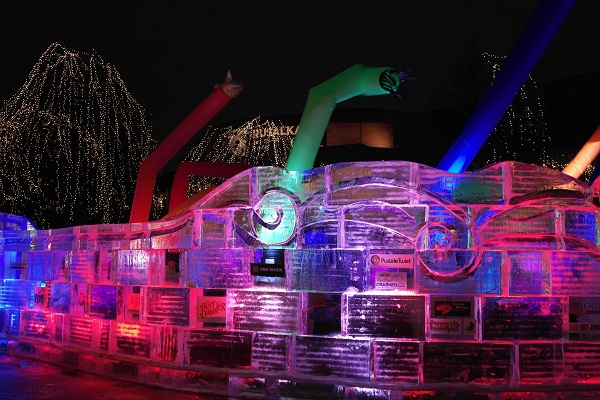 Energy Management Collaborative (EMC) today announced that it is using its LED lighting design expertise to illuminate the 2016 St. Paul Winter Carnival Ice Palace in St. Paul's Rice Park. This year's creation, The Palace of the Four Winds, honors the four brothers of the Carnival's mythical King Boreas. The LED lighting design, which includes more than 90 weather-resistant portable lighting units, creates a visual wind that blows across the walls of the 420 block ice palace.
"The St. Paul Winter Carnival is the event of the season for the Twin Cities community," said EMC President & CEO Jerry Johnson. "The ice palace is our opportunity to showcase EMC's creativity and demonstrate how LED lighting design can bring environments—even unique ones like the ice palace—to life."
A 130-year tradition, the St. Paul Winter Carnival is an 11-day event including everything from an ice carving contest to parades and fat bike races. It attracts over 250,000 visitors a year and has a $3.5 – $5 million dollar economic impact on the city of St. Paul and the State of Minnesota.
The palace's ice blocks are traditionally cut from nearby Lake Phalen. However an unseasonably warm December meant this year's ice blocks were man-made and came individually packaged in cardboard.
While EMC is used to addressing a number of lighting design challenges for its varied business clients, melting walls are not a common problem. Yet EMC Lighting Designer Keith DeFreese, who channeled his vast experience in theater lighting for this project was up for the challenge.
"The temporary nature of this lighting design lets us maximize our creativity," he explained. "Unlike the buildings EMC usually designs for, we have a lot more options as to where we place lights and what we can make them do.
About EMC
Energy Management Collaborative (@EMC_2003) provides state-of-the-art lighting conversion systems and service solutions in a broad range of industrial, commercial and retail facilities in North and South America. Since 2003, the company's turnkey project management approach, EnergyMAXX, has helped its customers assess and implement each project phase, bringing an immediate and positive impact to their bottom line.