EMC Named 2012 Small Business Success Stories Finalist by Twin Cities Business Magazine
Jayne Hollen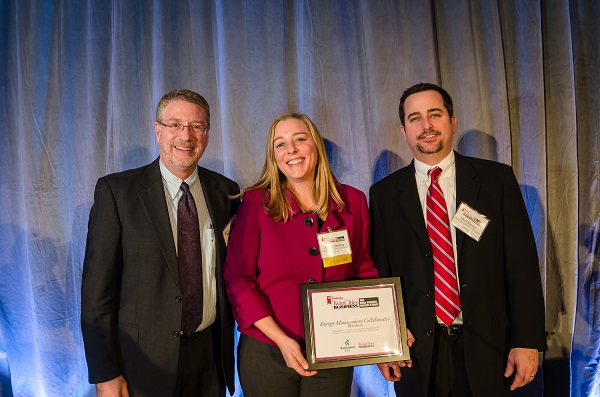 Plymouth, MN (January 16, 2013) - Turnkey lighting solutions provider Energy Management Collaborative (EMC) was recognized as a Twin Cities Business Magazine 2012 Small Business Success Story Finalist at a reception held January 10 at the Radisson Plaza Hotel in Minneapolis.
Magazine Editor-in-Chief Dale Kurschner called the event a "celebration of enterprise." He went on to explain that the companies recognized that evening spanned several industries—ranging from brewing to transportation—but all reflected "an increased emphasis on entrepreneurship."
EMC Director of Finance Megan Helling accepted the company's award at the ceremony. "The EMC team has been working hard—at everything from establishing solid processes for assessing, planning and implementing customer projects to moving to a new, energy-efficient headquarters this past September. It was nice to have our efforts recognized by the larger business community," she said.
In a recorded messaged played at the reception, Minnesota Senator Amy Klobuchar lauded 2012 Small Business Success Story honorees and finalists for the positive impact on Minnesota job growth, referencing the 10,000 jobs added last year.
EMC's steady growth helped contribute to that number.
"In the ten years we've been in business we've grown from five employees to 37," said EMC President and CEO Jerry Johnson. "We are on track to achieve double-digit revenue growth for the next five years and expect to double our employee base in the next two to three years."
Energy Management Collaborative is a provider of innovative lighting solutions in the Americas. Since 2003, major retail chains, multinational industrial and commercial corporations, healthcare providers and government entities have sought the energy services company for its leadership in assessing their lighting needs and implementing high quality, cost effective and long term lighting solutions. The company's trademarked project management approach, EnergyMAXX, maximizes customer results in each project phase, from initial planning through installation, bringing an immediate, positive impact on their bottom line.